In the early nineties, my boyfriend and I were on a game show titled, "Shop 'Til You Drop." It was filmed in a fake mall, complete with various storefronts. We were pitted against another couple, and the goal of the game was to get the high score in a serious of stunts, then answer a round of rapid-fire trivia questions related to pop culture and shopping.
Guess who won?
Our prize package included a mountain bike, a cordless phone (hey, this was the early nineties), a set of steak knives (of course), wallpaper (??), baby clothes (???), and two trips: one to Bally's Las Vegas and one to the Royal Lahaina Resort on Maui.
Maui was fantastic. During the time we were there, we drove around the island and explored a little. We decided to stop at the Grand Wailea for lunch. I remember having the best onion rings of my life at the Maui Onion, a little restaurant overlooking the ocean in the middle of the resort grounds. After lunch, we convinced a front desk rep to give us a tour of the property, including a room. When we walked out onto the lanai of the gorgeous suite, I remember thinking, "I'm going to come back here someday." And now here I am. On points!
In 2012, before the massive Hilton points devaluation a few months ago, I booked two Deluxe Oceanview rooms for five nights in June of 2013. Before we arrived, I did as much research as I could on the property, and I found a lot of info, but I still had a lot of questions. Now I've got answers, and I'm going to share. These are my top five tips for anyone else who is planning a trip to this beautiful spot.
The Grand Wailea – My Top Five Opinionated Tips
1. Lounge chairs. This was the number one thing that I had questions about. I had heard a lot about the chair situation, with folks weighing in on both sides; some said that they never had a problem finding lounge chairs, while others maintained that the chairs were elusive or even impossible to locate. The heated debate actually reminded me a lot of how people view dating, but I think that is veering pretty far off topic, so I will return to the original point: chairs. I was mildly concerned about finding them, but my main question was actually where the prime chair real estate was located. In other words, if we were stalking a good chair, where should we start our search?
If you are wondering the same thing, you are in luck, because I have some answers for you. In my opinion, the number one best chair spot is at the very top of the slides. The pool is shallow enough so that kids can play in it easily, plus there is a small jacuzzi there as well. Also, since the slides start at this pool, it is great for kids because they can do the slide circuit and check in with parents each time they begin again. And, this pool is closest to the hotel so it minimizes the long walk back to your room when you've had enough sun for the day.
If you can't find a spot at the top pool, try the pool one level down:
To ensure that you get a group of chairs all together, the best strategy is to send a scout down first thing in the morning. This sounds worse than it is. It's actually not that big a deal. Since the pools open at 7 am, Josh usually went down and claimed chairs between 7-8 am (he just put random items on each chair, like magazines and t-shirts). The hotel policy is that it isn't cool to leave chairs empty for longer than an hour, so we just made sure to get back down to the pool by 9 am or so. This worked well.
The one day we did not do this, we were still able to find four chairs together; they just were in a weird place at the very bottom of the pool complex. It was still totally fine. So in my experience the chair issue wasn't an issue at all, as long as you are flexible and/or willing to get out there early.
2. Good rooms. The Grand Wailea is a very large resort (780 rooms). It is shaped like a sea turtle. Rooms in the Lagoon and Chapel wings are closest to the pools and the beach; if you get a room in one of the other wings, you will likely end up doing a lot of walking…and I mean A LOT. My family is pretty active, and we always enjoy a stroll from one place to another, but although we stayed in the Lagoon wing, we still found the amount of walking a little excessive; it took a good 10 minutes to hike from our room to the water.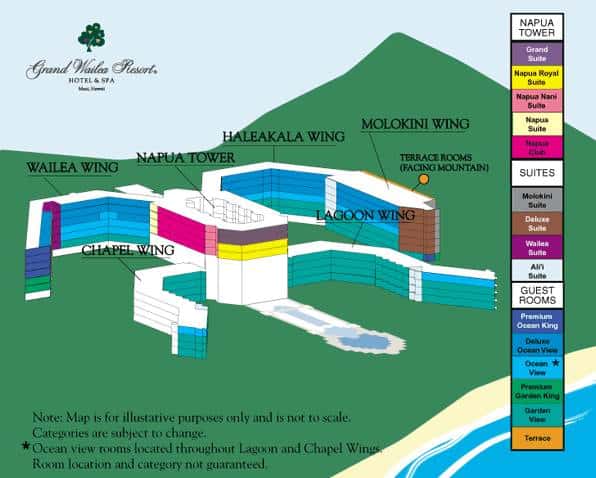 3. Dining. Food at the Grand Wailea is really, really expensive. If you decide to stay on-property for meals, expect to spend hundreds of dollars each day (not exaggerating). We chose to dine elsewhere; there are tons of great options nearby. I wrote a post yesterday on this subject (you can read it here); I also wrote an article for the Frugal Travel Guy site titled 8 Stellar Maui Dining Tips. Check it out.
4. Gear. Buy boogie boards (or snorkel gear) in town instead of renting from your hotel. For $20 apiece, we picked up two boogie boards at the ABC Store, which was 2 minutes away from where we are staying. This is exactly the price we would have paid for a one-day rental (per board!) on-property at the hotel. Since we're here for 5 days, this saved us $160. We are just planning to pass them on to another vacationing family when we're done with them.
5. Timing. The beach and pool areas of the resort tend to get busier as the day wears on, so be aware that you will definitely have very different experiences in the morning and in the afternoon. Something that worked for us is the classic "down time" in the room in the middle of the day. It was great to relax and refresh ourselves before heading out for round two.
If you are planning a trip to the Grand Wailea, hopefully these tips were useful to you!
Aloha!